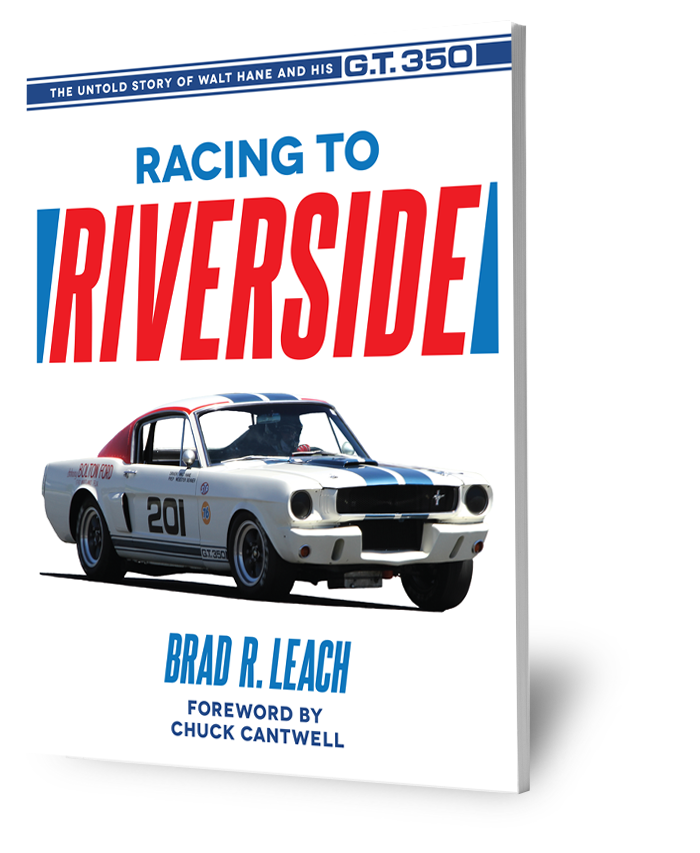 The 1965 Shelby GT350 R-Model Mustang was a rip-snortin', fire-breathing racing machine. Only thirty-six were ever built. Racing to Riverside tells the tale of one of those iconic American sports cars, ("5R103") and of its driver, Walt Hane, who strove to reach the pinnacle of North American amateur road-racing success.
Walt Hane, a mild-mannered, bespectacled engineer from Florida was, by most measures and certainly by appearance, an ordinary average family man. But Walt was intrigued by sports car road racing, which was gaining popularity in the United States during the late 1950s. Despite a humble start, (he showed up for his first race with a homemade fire suit, and a borrowed Air Force crash helmet), Walt quickly became a winner of many Sports Car Club of America races. Then, in mid-1965, Walt earned a spot as the driver of one of the hottest muscle sports car racers of the era: the 1965 Shelby GT350 R-model.
With Racing to Riverside you ride along as Walt, and his all-volunteer crew of friends and family, learn how to wring maximum performance from their GT350, and also have some fun along the way. Ultimately, Walt and team travel across the country to Riverside International Raceway in southern California, where the "winner-takes-all" American Road Race of Champions (ARRC) determines the 1966 National Champions. As an underdog entry, on a track they had never seen, they take their shot at road-racing glory.
Much more than a simple documentation of racing results, Racing to Riverside also reveals the backstories, including humorous, never before told anecdotal accounts of what really happened along the way. Richly illustrated with period photographs, most of which are published here for the first time, Racing to Riverside is an entertaining read for all Shelby fans and historic sports car road-racing enthusiasts alike.